Online registration for the 47th Annapolis Ten Mile Run will open on April 15, 2022!
The Annapolis Ten Mile Run is a 10-mile foot race organized by the Annapolis Striders, Inc., a 1400 member, all volunteer, non-profit 501 (c)(3) organization, established in 1978, in Annapolis Maryland that promotes physical fitness and mental well-being through distance running. The race is conducted according to the road racing guidelines of the Road Runners Club of America. For a history of this community race, please visit our race archive.
The race has been listed as one of the top ten 10-mile races in the country by Runner's World Magazine. It is a beautiful run through historic Annapolis and over the Severn River.
For 2022, the race has been selected as the RRCA Maryland State 10 Mile Championship.

The Annapolis 10 Mile Run has added a non-binary option on our registration form. We welcome all runners to challenge themselves on the best course in Annapolis on August 28.
RRCA Maryland and District of Columbia Team Competition
An award will be presented to the top-scoring male team and an award will be presented to the top-scoring female team, based on the net chip aggregate time of the top three fastest male and female runners that are current members of a RRCA Maryland or D.C. running club. A team can consist of an unlimited number of runners of the same gender, but only the first three finishers will be scored in the competition. There are no mixed-gender teams. Each male and female team must separately consist of at least three finishers of the same gender in order to qualify for this award, and runners may only compete for one running club.
In order to be considered for this award, each scoring runner must be a current member of a RRCA Maryland and D.C. running club. At registration, there will be a pull down menu where you can select your running club. You must select your running club at the time of registration, and no changes to your designation will be permitted.
2019/2020 Deferrals
Runners! If you deferred your 2019 registration to 2020 and would like to have that entry transferred to 2022, email us at a10@annapolisstriders.org with the subject line "2020 A10 deferral." There will be no fee or additional cost. We have to process each request manually, so please be patient as we work our way through the list!
Race Registration
Registration Fees
| Registration Date | Fee |
| --- | --- |
| April 15, 2022 - April 30, 2022 | $70 |
| May 1, 2022 - May 31, 2022 | $75 |
| June 1, 2022 - July 14, 2022 | $80 |
| July 15, 2022 - August 25, 2022 | $85 |
| August 27, 2022 (Race Expo) | $100 |
Transfers and Refunds
Field Limit

Race registration will close when 4000 registrants are reached. The race is expected to sell out, so register early! All participants must be at least 12 years old as of the date of the race to enter.

If there are spots available, race registration will be permitted on August 27, 2022, at the race expo starting at 10 a.m. The registrant must register in-person and the fee is $100, credit card, cash or check, subject to availability. There will be no electronic registration. First come, first served while they last! There is NO RACE DAY (August 28) REGISTRATION.

Transfers

TRANSFERRING OF BIBS, BIB SWAPPING, and BANDITS (non registered runners) are NOT permitted. Please do not run on someone else's bib. It causes timing and award issues, and we do not know who is on the course should a medical emergency arise. Those caught transferring bibs, bib swapping, or running as a bandit risk future disqualification from the Annapolis 10 Mile Run. If you cannot run, please take advantage of our deferral policy!

Deferrals

We will be offering deferrals to 2023 this year. The deferral fee will be $25.00. Registered runners for the 2022 Annapolis 10 Mile Run can defer their registration to the 2023 Annapolis 10 Mile Run using Active.com from July 28, 2022, to August 25, 2022.

There is a $25.00 deferral fee payable at the time of the deferral. A processing fee is charged by Active.com.

Instructions for A-10 registration deferral:

• Sign in to Active.com. Locate "My Events" using this link https://myevents.active.com/

• Select the Annapolis 10 Mile Run.

• Use the "Change Event" link to begin. Please follow the prompts to defer to 2023.

• After completion of the process you will receive an e-mail confirming that you are entered into the 2023 Annapolis 10 Mile Run.

Refunds

There are no refunds for any reason, and no deferrals will be permitted outside the time periods stated above. No exceptions.
Packet Pick-up and Race Expo
Packet Pick-up
Saturday, August 27, 10am - 5pm
Navy-Marine Corps Memorial Stadium
You must present a government issued photo ID to pick up your packet. You may designate a family member or friend to pick up your race bib on Saturday only if they have a letter of permission stating that they may pick up your bib and a copy of your government-issued photo ID.

Sunday, August 28, 5:30am-6:45am (Race Day)
Navy-Marine Corps Memorial Stadium
Bibs will ONLY be given to the registered runner on race day. You must have your photo ID or a copy of your ID to pick up your bib number. Plan to arrive before 6:15 a.m. Pick-up lines close promptly at 6:45 a.m.
Race Expo
Join us Saturday, August 27, 2022, from 10am till 5pm at the Navy-Marine Corps Memorial Stadium for the Race Expo! In addition to packet pick-up, the Expo will feature custom Annapolis Striders Merchandise (including past race premiums at deep discounts), and merchandise from National Running Center, local running stores, and other vendors, clothing sales, displays, and more.
Course
The A-10 starts and finishes at the Navy-Marine Corps Memorial Stadium.

Portions of the course may be open to limited vehicular traffic. Please follow all course marshall and police instructions.
In the event of an emergency where emergency medical vehicles must cross the course, runners will be briefly stopped to facilitate that vehicle's passage.

This is a hilly course run in the heat and humidity of a Chesapeake August. Temperatures can be 80 degrees at the start, with high humidity. Please be sure you are properly trained.
USATF Course Certification: #M13012 LMJ
Course Map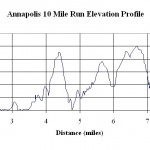 A10Profile2003-2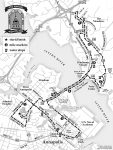 A-10 2022 greyscale course map
Race Conditions
This is a hilly course run in the heat and humidity of a Chesapeake August. Temperatures can be 80 degrees at the start with high humidity. Please be sure you are properly trained.
Time Limit
All participants must maintain at least a 15-minute per mile pace and complete the race by 9:30 am. Participants unable to make the 8-mile cut-off time (approximately 9:00 am), will be advised they are no longer official participants and will be required to move to the sidewalk and obey all pedestrian traffic rules. Those individuals who continue despite missing the cut-off time will cease to be official participants, and will not receive an official finisher time's or finisher's premium. THE COURSE WILL OPEN TO VEHICULAR TRAFFIC AT 9:30 am.

Timing
The race will be electronically timed with a timing chip (IPICO RFID system) on the back of your bib. Do not bend or fold your bib number. The bib does not have to be returned. Timing bibs must be worn as directed to be officially scored, and bib numbers must be worn on the torso with the bib number visible.
Aid Stations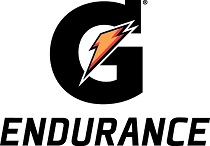 Aid stations will provide water and Gatorade.
Calvary UMC Church, Rowe Blvd. (Mile 1.5)
St. Anne's Episcopal Church – (Mile 2.0)
Gate 8, Rt.450 (Mile 3.5 and Mile 9)
Ferry Farms, Elmwood and Greenbury Point Road (Mile 6)
Mile 7 Water Stop
Pendennis Mount, Rt. 450 (Mile 8)
Pacers
The 2022 Annapolis Ten Mile Run will be offering free pacing assistance from experienced runners for the following estimated finish times (hour and minute): 1:10, 1:20, 1:30, 1:40, 1:50, and 2:00! You do not need to register for pacing assistance. You will have an opportunity to meet the pacers on Saturday at packet pickup, and details from Lara Mish, our Pace Captain, will be provided as we get closer to the race, including meeting locations on race day.
Race Rules
In keeping with the A10's tradition of awarding a Finisher's Premium, NO premiums will be distributed at the packet pickup/Expo or will be given to any registrants who do not finish the race. You must finish the race and be present to receive the premium. The premium will not be mailed. No exceptions!

NO headphones or earbuds. No wheels (roller blades, bikes, strollers, etc.). No dogs (or cats!). All participants must be at least 12 years old as of the date of the race to enter the race.

All decisions of the race directors are final.
Awards
The A10 Awards Ceremony will be at approximately 10:00am at the band stage. AWARDS WILL NOT BE MAILED. If you have to leave early, please designate a person to receive your award for you. Times will be placed near the bandstand as quickly as possible, subject to verification. All finish times are preliminary until final verification.
Award winners will receive custom pottery from
Annapolis Pottery
.



OVERALL

1st, 2nd, and 3rd Place; Male, Female, & Nonbinary; based on gun time



MASTERS (Age 40-49)

1st, 2nd Place; Male & Female; based on gun time



GRAND MASTERS (Age 50 and up)

1st, 2nd Place; Male & Female; based on gun time



AGE GROUP AWARDS

1st, 2nd, and 3rd Place; Male & Female; 19 and under, 20-24, etc., in 5 year increments at Race Directors' discretion; based on chip time



PAT O'BRIEN MEMORIAL AWARD

To the top finishing Anne Arundel County Female, in honor of Pat O'Brien, a stalwart of the Annapolis Striders, and a gritty competitor and warm-hearted person who passed away in 1992. Based on gun time.



CDR WILLIE McCOOL AWARD

To the top finishing U.S. Naval Academy Alum. In honor of Commander Willie McCool - USNA Alum, astronaut, and A10 veteran who died in the Columbia Space Shuttle accident. Based on gun time.



Lt. Col. BEN MOORE, USMC (ret) AWARD

To the top finishing Anne Arundel County Male. In honor of Ben Moore, long time Annapolis Strider, who passed away in 2008. Ben trained many Striders to run their first marathon, and was active in volunteering at the A10. Based on gun time.


Race Amenities
Bag Drop
There is no bag check. The parking area is immediately adjacent to the start/finish area. Please leave your non-running related belongings, including backpacks and bags, in your vehicle.

No unattended backpacks or other bags permitted in the start/finish and expo areas! The City of Annapolis Police Department will confiscate any unattended backpack or bag. The City of Annapolis Police Department will also have drug and weapon sniffing canines; if a canine has positive smell on a backpack or bag, the race will be stopped while the bag is investigated.

PLEASE DO NOT LEAVE YOUR BACKPACK OR BAGS UNATTENDED. THIS APPLIES TO SPECTATORS AND RUNNERS. The Annapolis Striders support the effort of law enforcement to make this a safe event for everyone.

Please do not leave your pet in your car while you race! Better yet please leave your pets at home.

Travel and Lodging
The Westin Annapolis (410-972-4300), Graduate Annapolis (410-263-7777), and the Hilton Garden Inn Annapolis Downtown (410-990-1100) are within walking distance of the start at the stadium. There are also many bed and breakfasts in the downtown and harbor area, which is about 1 ¼ mile from the start/finish.
Post Race
Featuring entertainment from the band Rickshaw Lizard, icy cold beer, frozen fruit bars, bananas, and bagels. Sales of merchandize by the Annapolis Striders, National Running Center, and other vendors.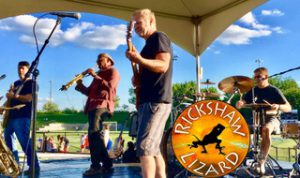 Rickshaw Lizard brings sax-driven, funk-infused fun the the Annapolis 10 Mile Run! The band's versatile musicality, vocal harmony and tight rhythm section will get you on your feet and keep you movin'!  Based in Annapolis, MD, Rickshaw Lizard is a musical powerhouse playing throughout the Annapolis/Baltimore/DC/Northern Virginia region. The band's first EP, Move With Me, was recorded at Loco-Motive Studios and is available on CD and digitally everywhere!
Green Initiative
The Annapolis Striders are committed to making our races, including The Annapolis Ten Mile Run as eco-friendly as we can. 
Here are some easy ways to be involved in Annapolis Ten-Mile Run Green Initiative:
Carpool: Drive to the race with a friend or two
Drop off any extra safety pins for reuse
Recycle: Look for and USE the recycling bins at the race. All of our dumpsters are sorted for recycling materials
Bring your own plastic mug for the after party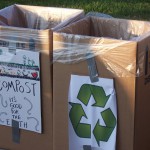 Charities
Sponsors
Volunteer
Hundreds of volunteers are needed to put on this event. If you have family or friends willing to help out, and get a great 2022 Volunteer's shirt, please let us know. TO VOLUNTEER: Email Eva Coale, our volunteer coordinator.