We are happy to announce that we have the OK to run our 8k on August 1, 2021 at 8:00 am.
Please bring your mask.  AACC's current policy is that masks are required indoors and outdoors when social distancing is not possible.  Consequently, you'll need a mask when you use the restrooms.
Race Registration
All registration is online. There are no race day sign ups.
If you are competing in the MD RRCA series, note that you must include the abbreviation for your club. Information about what to use will be on a separate page during the registration process for non-members of the Annapolis Striders.
Registration Fees
| Registration Date | Annapolis Striders Member | Non-Member |
| --- | --- | --- |
| Date range this fee is applicable 6/14/21 to 7/28/21 | $7.00 (includes Runsignup fee) | $12.50 (icludes Runsignup fee) |
Transfers and Refunds
There are no transfers or refunds.
Packet Pickup
Pick up your race bib between 6:30 am and 7:45 am near the entrance to the AACC stadium.
Course
The race course includes a variety of surfaces including grass, gravel, asphalt, concrete, and dirt. The map for 2021 has some minor changes in it from the last race due to construction.
Course Map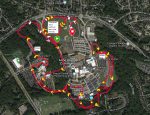 DogDaysCourse2021