2022 Spring Beginning Running – Couch to 5k Training
April 26, 2022 - July 9, 2022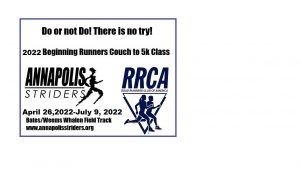 This is an outdoor activity.
Program Prerequisites: 
Participants should be capable of walking briskly for 20 minutes and should check with their health care professional prior to starting any fitness program.
Whether you are new to running or trying to return to running, this is a outdoor program for you
. This class is intended for all who are looking to "get off the couch with no running experience at all" and do a 5K (3.1 miles) distance. Registration and fees for those races are separate from this training program, and participation in those races is not required to join the training program.
The Program is a ten week run/walk program starting with a week one, 1 minute run, 2 minute walk over 20 minutes, three times a week with a gradual increase of running time of about 1 minute a week until week ten with a 20 minutes continuous run. Pre-run dynamic warm up exercises and walk and post-run cool-down walk, static stretches are included.
Graduation race goal is the Women's Distance Festival (Women Only) and Run After the Women (Men Only) 5K
to be held on July 9, 2022 in West Annapolis. Race fees are separate and NOT included in membership fees. A race preview run is available to participants the weekend before the race.
The Program features discussions on
shoes, running attire and gear, proper running form, hill work, heart rate zones, injury prevention, runner's safety, nutrition, and cross training.
Sessions and Locations
Tuesdays Evenings 6:00 PM
Bates Athletic Complex – Weems Whelan Field
Thursday Evenings 6:00 PM
Bates Athletic Complex – Weems Whelan Field
Saturday Mornings 8:00 AM
Bates Athletic Complex – Weems Whelan Field