Runners, welcome to the thirteenth annual Rosaryville Veterans Day 50K. The leaves will be gone, the air will be crisp, and we hope you will once again cross this bridge with us at our Veterans Day trail race.
The Annapolis Striders present this 50K on the wooded trails and through the meadows of Rosaryville State Park in Upper Marlboro, Maryland. The race is limited to 200 participants and has an 8-hour time limit.
Headphones, pets, babyjoggers, etc. are not allowed during the race given the nature of the course, our concern for the safety of all participants, and our insurance requirements.
Race Registration
Registration will close when 200 participants are reached.
Registration Fees
| Registration Date | Fee |
| --- | --- |
| Before race day | $35 |
| Race Day (6:30-7:30am) | $50 |
Transfers and Refunds
Race deferrals will be granted for all reasonable requests. There are no transfers or refunds.
Packet Pickup
Packet Pickup is on race morning from 6:30 to 7:30 at the pavillion area, near the Start/Finish.
Course
The course is basically 3.25 loops around the 9.5-mile single track perimeter trail. There are no big climbs nor descents but the rolling hills add up to a total elevation gain of about 2600ft. The Start/Finish is at the Pavilion picnic area. From the start, runners go 0.7 miles on paved road to Aid Station #1 (AS #1) where they enter the perimeter trail, running in a counter-clockwise direction. About 2.25 miles on the trail from AS #1 is the bag drop area and shortly after that is AS #2. From AS #2, it is about 7 miles on the trail to complete the loop back to AS #1. Runners complete two more loops on the trail then continue to the bag drop area where they exit the loop for a short sprint across a grassy field to the finish. The course is mostly in deep woods; the trail is mostly single track but not very technical. The course is well marked with white pie plates and white confidence ribbons. There are other markers on the course that have been put there by other people for other purposes. Look for the white markers only.

Note for first-time ultra trail runners: This isn't a technical course, but admire the scenery at your peril. Roots, rocks, and stumps all nestle in the leaves, which in early November will be plentiful.
Course Map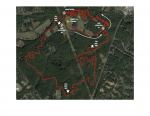 Course Map
Time Limit
Runners have 8 hours to finish the race. However, in the interest of our dedicated volunteers and to avoid having runners on the course after the 8-hour time limit, runners must reach the bag drop area/trail exit point for their final full 9.5-mile lap by 1:20 p.m. This allows 2 hours and 40 minutes to complete the final full loop on the 9.5-mile trail and the short dash to the finish. Runners arriving at the bag drop area after 1:20 having completed only 2 full loops on the perimeter trail will not be permitted to continue the race.

Medical Aid
There will be a nurse and/or another health care professional at the Start/Finish area.
Aid Stations
The perimeter trail loop has two aid stations about 2.5 miles from aid station #1 to aid station #2 and about 7 miles from aid station #2 back to aid station #1.  There will be a porta-pot at aid station #1.  The aid stations will have Gatorade, Pepsi, Mountain Dew, pretzels, bananas, fig newtons, cookies, and maybe some boiled potatoes.  Please carry water bottles (handheld, belt, etc.) or wear a hydration pack.  We will have a limited number of cups at the aid stations primarily for soda but ask that runners carry their water and Gatorade if at all possible (reduces waste and ensures runners have fluids available when needed between aid stations, there is nearly seven miles from aid station #2 back to aid station #1).
Race Rules
Do's and Don'ts:

Do:

Let us know if you drop out. (So we don't call your emergency contact!)
Bring a drop bag if you want one. It will not be under a roof, so if rain is forecast you may want to use a dry-bag.
Feel free to have a pacer on Loop #3. However, that pacer must be on foot (not a bike).

Don't:

Wear headphones or bring a pet while you run. If you race wearing headphones, you will be DISQUALIFIED, and you won't get a time.
Pay for parking. It is covered by your race registration.
Bring booze—we are in a state park and we don't have a license for alcohol.
Litter! If you drop a gel, even a gel tab, or a cup, or anything else on the trail, please stop and pick it up!
Awards
Male/Female: Overall, Masters, Military, 10-year Age groups. The awards will be custom pottery made here in Annapolis: mugs for age group winners, bigger mugs for overall, masters, and military winners. The Awards Ceremony will take place at about 1:30 p.m. in the Pavilion.
Race Amenities
Bag Drop
There will be a bag drop just before the aid station #2. This point is very close to the start/finish (perhaps 400m), you will place your bag at the bag drop area yourself before the start. You will have access to your bag at about the 5k, 20k, and 35k points on the course. This area will not be covered, please plan accordingly if wet weather is forecast.
Travel and Lodging
DIRECTIONS:
From Baltimore: (Travel time approx. 1 hour.) Take Route 97 to Route 3 south. Route 3 will cross Route 50 and become Route 301 south. Follow Route 301 to Upper Marlboro. The State Park is located approximately 15 miles south of Route 50 and 4 miles south of Upper Marlboro. The park entrance is on the right. 
From the Washington Beltway I-495/95: (Travel time approx. 1/2 hour.) Take exit #11, Route 4 East. Follow Route 4 to Upper Marlboro. Exit on Route 301 south for approximately 4 miles. The park entrance is on the right.
From the south: Travelling north on Route 301, after you pass Rosaryville Road, the park entrance is on your left in about a mile. Coming from the south, it is easy to miss the entrance to the park. If you pass the Osborne Shopping Center you have gone too far. Turn around.
WARNING: There are two ways to enter Rosaryville State Park, from Route 301 (Yes!) and Rosaryville Road (No!).  You must enter from Hwy 301.  From the Rosaryville Road entrance, you cannot get to the start of the race!  The entrance to the park off Hwy 301 is just south of Osborne Road and Osborne Shopping Center.
Post Race
Rice and beans from Chevy's, apples, and maybe cider.