The Eternal Winter 6 Hour Run course is the 3.65 mile dirt and paved trail within Greenbury Point at the Naval Support Activity Annapolis base. It is a FAT ASS style run benefiting our local food pantry, the Light House (http://www.annapolislighthouse.org/). The Light House Homeless Prevention Support Center has served the community as a basic needs provider of food, shelter, and support services for over 25 years.
Location: Greenbury Point, Naval Support Activity Annapolis, Annapolis, MD. Use 289-283 Bullard Blvd, Annapolis, MD 21402 in your GPS.
Registration: Race Day — None.
Race Time: 8:00 am
Entry fee: There are two parts to the registration. A check and a food donation.
Registration instructions
JAN 10 UPDATE: REGISTRATION IS CLOSED. RACE IS FULL.
Mail-in this form (filled out) with a $20 check made out to the Light House.
The check is returned to you if you show up on race morning and produce TEN items from the list below. If you don't show up, or show up empty-handed, we will provide the check to the charity in lieu of the items you would have donated.
BUT in return for donating your check to The Light House shelter and pantry, AND IF YOU ARE ONE OF THE FIRST 60 PEOPLE TO SIGN UP you will be offered a custom Eternal Winter facemask suitable for all safe social distancing gatherings. All the kewl kids wear them. Be a kuhl kid and donate your check.
Suggested items include:
Peanut Butter and Jelly
Ketchup
Coffee – ground
Canned fruit
Macaroni and cheese
Tuna Helper
Instant mashed potatoes
Spaghetti sauce
Cereal
Canned soup
Canned vegetables
Oatmeal packets
Canned tuna
Hamburger Helper
Fruit Juice (40 oz or less)
Boxes or small bags of rice
Bitcoin (just checking to see if you are really reading the list)
Course
A fat-ass style run along the dirt and paved trails of Greenbury Point Nature Center.
Click the image below for the course map. Copies of the map will NOT be available at race check-in. If you want a copy, print a copy. The race starts at the Greenbury Point Nature Center.

The race begins with a loop of the Poet's Nature Trail, come back through the Nature Center, goes right out W Rd to Greenbury Point along the Severn River and comes back on E Rd, the Whitehall Bay side, where the trail becomes Bullard Blvd, turns right onto Hooper High Rd, and then goes into the wooded Pipsissewa Trail/Timberdoodle Trail, turns left onto Bullard Blvd and returns to the Greenbury Point Nature Center.
Course Map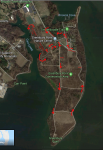 2020 EW6 Map
Race Rules
We will be practicing the following contact-free safeguards that will provide reasonable prevention of exposure to the virus and allow for a safe experience for all participants.

1 – Greenbury Point would be restricted to only runners and limited race management personnel. No support crews nor spectators allowed. A volunteer will be stationed on the main road verifying cars and runners.

2 - Screening of all participants upon arrival at Greenbury Point.
· You will be asked whether you have experienced COVID 19 symptoms or been around anyone who has in the last two weeks.

· Your temperature would be taken. Anyone with a temperature above 100.4 F would be refused access to Greenbury Point and instructed to leave and to contact their physician and seek medical advice.

· An area will be set aside for food donations. Please practice social distancing as you place your donation in the pile.

3 – There are NO Portable Toilets nor any handwashing stations provided. The facilities at Greenbury Point are closed. Plan accordingly.

4 – Contact Free Race procedures

· Runners will be required to cover their mouth and nose, with a face cover (Buff, mask, etc.), at all times prior to the start and immediately upon finishing.

· Runners will be instructed to exercise social distancing at all times, even while running.

· Runners will stay to the right of the path/trail while running and announce themselves when intending to pass another runner

· No aid will be provided to runners. You are required to provide your own aid from their vehicles during the race.

· Runners will start in groups of 10 or so separated by 10 seconds each.

Other contact-free safeguards may be established so that we can still hold the event.

Thanks,

John
Awards
Same as last year. None. Nada. Rien. Niente. Nichts. Nothing. It's a FAT ASS, read the information note above.
Volunteer
Volunteers needed! We need two or three volunteers! Please contact Johnh@annapolisstriders.org