The Eternal Winter 6 Hour Run course is the 3.5 mile dirt and paved trail within Greenbury Point at the Naval Support Activity Annapolis base. It is a FAT ASS style run benefiting our local food pantry, the Light House (http://www.annapolislighthouse.org/). The Light House Homeless Prevention Support Center has served the community as a basic needs provider of food, shelter and support services for over 25 years.
Location: Greenbury Point, Naval Support Activity Annapolis, Annapolis, MD. Use 289-283 Bullard Blvd, Annapolis, MD 21402 in your GPS.
Registration: Race Day — None.
Race Time: 8:00 am
Entry fee: There are two parts to the registration. A check and a food donation.
Registration instructions
Mail in this form (filled out) with a $15 check made out to the Light House.
The check is returned to you if you show up on race morning and produce FIVE items from the list below. If you don't show up, or show up empty handed, we will provide the check to the charity in lieu of the items you would have donated.
In return for donating your check to The Light House shelter and pantry, you will be offered a pair of Eternal Winter wool running socks. All the kewl kids wear them. Be a kuhl kid and donate your check.
Suggested items include:
Peanut Butter and Jelly
Ketchup
Coffee – ground
Canned fruit
Macaroni and cheese
Tuna Helper
Instant mashed potatoes
Spaghetti sauce
Cereal
Canned soup
Canned vegetables
Oatmeal packets
Canned tuna
Hamburger Helper
Fruit Juice (40 oz or less)
Boxes or small bags of rice
Race Registration
Registration Fees
| Registration Date | Fee |
| --- | --- |
| Pre-register by check made out to the Light House | $15 |
| Race day | Registration check is returned in exchange for food item donation. |
Course
A fat-ass style run along the dirt and paved trails of Greenbury Point Nature Center.
Click the image below for the course map. Copies of the map will NOT be available at race check-in. If you want a copy, print a copy. The race starts at the Greenbury Point Nature Center.

The race begins with a loop of the Poet's Nature Trail, come back through the Nature Center, goes right out W Rd to Greenbury Point along the Severn River and comes back on E Rd, the Whitehall Bay side, where the trail becomes Bullard Blvd, turns right onto Hooper High Rd, and then goes into the wooded Pipsissewa Trail/Timberdoodle Trail, turns left onto Bullard Blvd and returns to the Greenbury Point Nature Center.
Course Map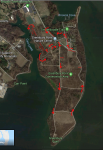 2020 EW6 Map
Awards
Same as last year. None. Nada. Rien. Niente. Nichts. Nothing. It's a FAT ASS, read the information note above.
Volunteer
Volunteers needed! Volunteer and who knows you might be able to run Eternal Winter for free….ask me how.