The 2016 edition of the B & A Trail Marathon and Half Marathon will be at Severna Park High School, starting time 07:30 AM. It is the 25th year of the marathon and 21st year of the half marathon. Come join us as we celebrate 25 years of running the marathon.
Race Registration
Registration Fees
| Registration Date | Fee |
| --- | --- |
| Until January 1, 2016 | $65 half marathon, $75 full marathon |
| January 1 through March 15, 2016 | $75 half marathon, $85 full marathon |
| March 19, 2016, 10am -3pm (Expo) | $100, both events if field is not full |
Transfers and Refunds
For $10, participants are free to transfer from the full marathon to the half marathon:
Log into Active.com at https://myevents.active.com to view your B & A registration, then choose "Change event category" in order to make the switch.
Packet Pick-up and Race Expo
Packet Pick-up
Packet pickup will be held at Severna Park High School on Saturday, March 19, 2016 from 10:00AM-3:00PM. Race day packet pick up: Sunday, March 20, 2016, 6:00-7:00 AM at Severna Park High School.
Race Expo
The race expo will be at Severna Park High School from 10:00AM - 3:00PM featuring local running stores. You may register for the race at the expo if the field is not full.
Course
The course will run approximately two miles on residential streets with the remainder on the B & A Trail; an asphalt "rails to trails" bike and running path. There is one significant hill on the marathon course. The course is USATF certified (Boston qualifier). Volunteers will monitor all turns and most intersections. The course will be closed to automobile traffic, but there are numerous road crossings and the trail IS open to other runners, walkers and bicyclists. Please be alert and courteous.

Course Map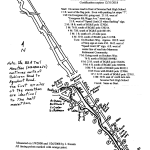 MD08003JS-2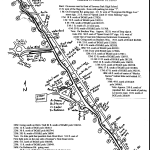 MD09001JS
Race Conditions
Typical unpredictable March weather, with temperatures ranging from the low 40s to the high 60s with rainy and windy conditions possible.
Time Limit
The marathon course will close at six hours (13:45/mile pace). Please plan accordingly. The time limit will be strictly enforced. An early start is not offered. Course support will be withdrawn at 6 hours, or 1:30 pm. Do not register if you are unable to complete 26.2 miles in 6 (six) hours. No exceptions will be made. There is no strict time limit for the half marathon.
Timing
Professional chip scoring will be used for the marathon and half marathon.
Medical Aid
First aid personnel will be stationed at the finish. Vaseline, ibuprofen and bandages will be available at the later marathon water stops.
Aid Stations
Water and Gatorade will be available approximately every 3 miles. Both caffeinated and non-caffeinated GU or similar gels will be available at two later aid stations on the marathon course. Please consult the race course maps for locations of the aid stations.
Race Rules
You must run the race for which you are registered. If you end the marathon at 13.1 miles, you will be scored DNF (did not finish).
Awards
All finishers will receive medals. Male and female overall awards, masters awards and age group awards. Half Marathon awards ceremony will be held at 10:30AM; marathon awards ceremony will be held at 11:30AM. Race results will be posted at www.annapolisstriders.org.
Race Amenities
Bag Drop
Please leave gear in your vehicle. Bag check has been eliminated for security reasons.
Travel and Lodging
The closest airport to the race is Thurgood Marshall Baltimore Washington International (BWI). Hotel and bed and breakfast accommodations are available throughout the Annapolis and BWI airport areas.
Post Race
Warm food and beverages will be provided inside the high school. Massages will be available after the race on a first come first served basis. Showers and a place to change into dry clothing will be available in the locker room of the high school.
Volunteer
To VOLUNTEER in any capacity before, during or after the race, please use the sign-up link. Volunteer help is very much appreciated and is the only thing that makes the race possible.
Sign-up to volunteer.