Race Registration
Registration Fees
| Registration Date | Fee |
| --- | --- |
| May 1 - June 1 | $65 |
| June 2 - August 1 | $75 |
| August 2 - August 24 | $80 |
| August 29 (10:00 am to 5:00 pm) | $100 |
Packet Pickup
Join us Sat. August 29, 2015 for packet pickup, we are planning on having special giveaways to each registered runner in honor of the 40th Anniversary of the event. Last year it was a custom hat, but it is a surprise this year! You must be present to receive your giveaways, they will not be mailed. Saturday Bib Number Pick-Up Anticipate early morning traffic and long pick-up lines on race day. Plan to get your number on Saturday, August 29, between 10 a.m. and 5 p.m. at the NAVY-MARINE CORPS MEMORIAL STADIUM. YOU MUST PRESENT A GOVERNMENT ISSUED PHOTO ID TO PICK UP YOUR PACKET. Pick-ups may be made for friends or family on Saturday only, but a note from the absent runner stating permission PLUS a copy of their government issued photo ID must be presented. Sunday Bib Number Pick-Up On Sunday, race day, packet pick-up starts at 5:30 a.m. at the Navy-Marine Corps Memorial Stadium. Arrive well before 6:15 a.m. Pick-up lines close at 6:45 a.m. DON'T BE LATE! Street closures around the stadium will start around 6:15/6:30 a.m. in preparation for the race. You must present your ID (or photocopy, so you don't have to worry about losing your ID. All photocopies will be returned to the person picking up the bib). Bibs will ONLY be given to the registered runner on race day. NO pickups for friends or family can be made on race day.
Race Rules
All Race Details and Decisions are subject to the Race Director's discretion. All decisions of the Race Director are final.

The race registration will close when 4,500 registrants are reached. No exceptions.

Race entries are subject to race director's discretion.

ALL REGISTRATIONS ARE FINAL WITH NO REFUNDS, TRANSFERS (EXCEPT AS NOTED BELOW) OR DEFERRALS. A major portion of the race proceeds will benefit the Anne Arundel Medical Center.

In the event of a race cancellation, there will be no refund.


Awards
he A10 Awards Ceremony will be at approximately 10:00am at the band stage. There are no duplicate awards. In other words, if you win the Top masters award, you can't also win your age group. You'll get one or the other - not both, and race director decisions are final. Awards are not mailed. If you have to leave early, please designate a person to receive your award for you. Times will be placed near the bandstand as quickly as possible, subject to verification.

Award winners will receive custom pottery from Annapolis Pottery.

Awards Categories

OVERALL: 1st, 2nd and 3rd Place, Male & Female, based on gun time

MASTERS (Age 40 on race day and over) : 1st, 2nd Place, Male & Female, based on gun time

GRAND MASTERS (Age 50 on race day and over) : 1st, 2nd Place, Male & Female, based on gun time

AGE GROUP AWARDS: 1st, 2nd and 3rd Place, Male & Female, 19 and under, 20-24, etc., in 5 year increments at Race Directors discretion. Based on chip time.

PAT O'BRIEN MEMORIAL AWARD: To the top finishing Anne Arundel County Female, in honor of Pat O'Brien, a stalwart of the Annapolis Striders, and a gritty competitor and warm-hearted person who passed away in 1992. Based on gun time.

CDR WILLIE McCOOL AWARD: To the top finishing U.S. NAVAL ACADEMY Alumni. In honor of Commander Willie McCool - USNA Alumni, astronaut and A-10 veteran who died in the Columbia Space Shuttle accident. Based on gun time.

L. COL. BEN MOORE, USM (ret) AWARD: To the top finishing Anne Arundel County Male. In honor of Ben Moore, long time Annapolis Strider, who passed away in 2008. Ben trained many Striders to run their first marathon, and was active in volunteering at the A-10. Based on gun time.

There are no cash awards.


RRCA Maryland and District of Columbia Team Competition

An award will be presented to the top scoring male team and an award will be presented to the top scoring female team, based on the net chip aggregate time of the top three fastest male and female runners, that are current members of a RRCA Maryland or D.C. running club. A team can consist of an unlimited number of runners of the same sex, but only the first three finishers will be scored in the competition. There are no mixed-sex teams. Each male and female team must separately consist of at least three finishers of the same sex in order to qualify for this award, and runners may only compete for one running club.

In order to be considered for this award, each scoring runner must be a current member of a RRCA Maryland and D.C. running club. At registration, there will be a pull down menu where you can select your running club. You must select your running club at the time of registration, and no changes to your designation will be permitted.
Race Amenities
Travel and Lodging
Local Hotels
Sheraton Annapolis Hotel (410)-266-3131, The Westin Annapolis (410) 972-4300), O'Callaghan Annapolis (410) 263-7700), and Loews Annapolis Hotel (410) 263-7777) are close to the stadium and there are also many bed and breakfasts in the downtown and harbor area, which is about 1 ¼ mile from the start/finish.
To make reservations at other Annapolis area hotels, motels and B&Bs you can contact the Annapolis and Anne Arundel Visitors Bureau online at www.visit-annapolis.org.
The City has a circulator bus that provides free transit from the harbor area on the West Street Corridor, terminating at the Westin Hotel. Click here for details.
Post Race
Featuring Entertainment by the Dana B. All Star Band, ice cream, bananas, bagels, beer, Gatorade. Sales of merchandize by the Annapolis Striders, National Running Center and other vendors.
Green Initiative
GREEN INITIATIVE
The Annapolis Striders are committed to making our races, including The Annapolis Ten Mile Run as eco-friendly as we can. 
Here are six easy ways to be involved in Annapolis Ten-Mile Run Green Initiative:
1.  Carpool: Drive to the race with a friend or two ;
2.  Drop off old shoes:  Bring your used sneakers (in any condition) to the packet pickup. Gently used shoes will be distributed to those in need or sent to Nike to be repurposed for running tracks, playgrounds, etc.;
3.  Drop off any extra safety pins for reuse;
4.  Recycle: Look for and USE the recycling and compost bins at the race;
5.  Compost: Look for and USE the recycling and compost bins at the race;
6.  Bring your own plastic mug for the after party
Note: Left over food will be donated to local charities.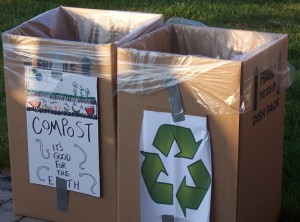 Charities
Sponsors