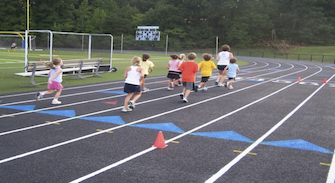 Please come join the Annapolis Striders in a fun, low-key kids running/exercise summer program.
Please join us next time. Details for the next session will be posted to this page when registration opens.
Program Prerequisites
Open to 5-9 year olds, and 10-14 year olds who are Annapolis Striders members through a family or junior membership.
Membership Requirement
Annapolis Striders training classes are a free benefit for members. In order to participate in this training class, you must have a current membership. You may become a member or renew an existing membership online. Training coaches are not able to accept membership signups at training sessions.
Goals
To complete a one mile race.
Program Features
The program implements games and activities designed to encourage youngsters and build the stamina required for a one mile run; 4 loops around an athletic field track. The program is conducted assuming zero running experience and is designed to be fun and memorable; while achieving the goal of completing their target run.