A 12-week build-up program for half marathon runners.
This low-key program will guide the participants from a base of 6 miles up to a long run of 14 miles in 12 weeks. The goal will be for all who complete the program to be able to complete the B&A Trail Half Marathon or an alternative half marathon around the same timeframe. You must sign up for the race on your own. They CLOSE OUT so sign up early!
Program Prerequisites
Annapolis Striders membership and ability to run 6 miles comfortably (comfortable, conversational pace). Not quite there yet? Let us know and we will help you get there.
Membership Requirement
Annapolis Striders training classes are a free benefit for members. In order to participate in this training class, you must have a current membership. You may become a member or renew an existing membership online or by mail-in form. After signing up as a member (or if you are already a member), you must also register for the training with the registration method for the upcoming session below. Training coaches will not accept membership signups or training registrations in-person at training sessions.
Goals
To complete a half-marathon (13.1 miles).
Program Features
Includes:
A detailed 12 week schedule.
How to build up for the half marathon, various pace charts, injury prevention and treatment, running safety, and keeping running fun.
Information on appropriate winter running attire will also be provided.
The B&A Trail has generously allowed us to hold this program on the trail.  We must follow all B&A Trail rules.  Information on trail running safety and parking will be provided.
Current Training Session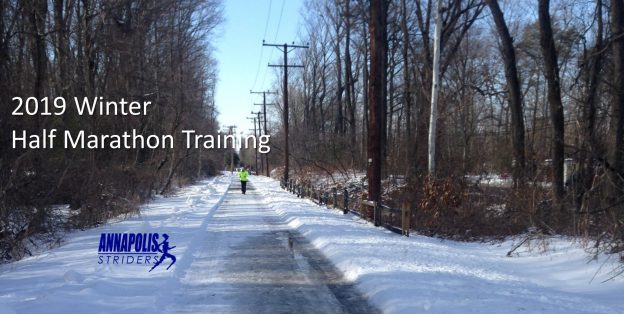 January 12, 2019 - March 31, 2019
Welcome to the Annapolis Striders 2019 Winter Half Marathon Training Program. With commitment and focus over the 12 week training period you will gradually extend your weekly training distance from 6 miles to the Half Marathon…13.1 Miles.
The target race for the 2019 training program is the B&A Marathon and Half Marathon that will be held on Sunday March, 31, 2019.  While there is no charge for the program that will guide your training for the 12 weeks leading up to the race, like most bibbed events the B&A Marathon and Half Marathon itself has a registration fee. Sign up early, as most events have a cap on the number of participants and this popular Striders race is no exception. The B&A Marathon and Half is a popular and relatively flat Boston Marathon Qualifying Race that normally draws interest from runners outside the area. Sign up now. We will prepare you.
Please review the 2019 Winter Marathon Half Marathon Training Announcement and the Training plan at the links provided below.  The generic Half Marathon Training Plan is intended to address the needs of a group of runners of varying ability and experience; runners must assess themselves continuously as they implement the plan.
Registration
Coaches
MIchael Myers (Co-Lead)
Kelly Kelly (Co-Lead)
Delia Edelmann
Amy Andrews
Marjorie Fioravante
Mark Hamilton
Email the coaches:

Facebook Group

Meet the Coaches Night!

January 8, 2019 at 7:00 pm

Charm City Run – Annapolis

1910 Towne Centre Blvd. Suite 120




Annapolis

,

MD

21401

United States



Training Information
Sessions and Locations
Saturdays at 7:30am

Severna Park High School

60 Robinson Rd




Severna Park

,

MD

21146

United States


+ Google Map